Book Review: The Prestige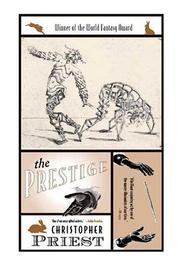 (Listened to audiobook)

If you haven't seen the movie: it's the story of two ri­val ma­gi­cians in late 1800's Lon­don, each with their own lives and se­crets. Mas­ter­fully writ­ten; check it out.
If you have seen the movie: Christo­pher Nolan did a top-notch job of adapt­ing the story for screen, but the book is def­i­nitely still worth read­ing.
Expand for spoilers

The book is rife with par­al­lels and ironies:

Ang­ier and Bor­den both use dou­bles for their trans­port­ing il­lu­sion.
Both in­di­rectly kill each other.
Bor­den is two men known by one name while Ang­ier is one man known by two names (Ru­pert and Robert).
Both men lead dou­ble lives (Ang­ier as a ma­gi­cian and a lord).

Pos­si­bly my fa­vorite:

In the be­gin­ning Ang­ier swin­dles fam­i­lies by hold­ing seances and pre­tend­ing to com­mu­ni­cate with their dead loved ones; at the end, he be­comes a ghost him­self.