Book Review: The Phantom Tollbooth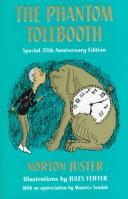 (Read to Lydia)

Fun chil­dren's book, com­pa­ra­ble to Alice's Adventures in Wonderland. Lots of puns that will go over a child's head but makes it fun for the par­ent. My fa­vorite part is prob­a­bly:
"Oh dear, all those words again," thought Milo as he climbed into the wagon with Tock and the cab­i­net mem­bers. "How are you go­ing to make it move? It does­n't have a—"

"Be very quiet," ad­vised the duke, "for it goes with­out say­ing."

And, sure enough, as soon as they were all quite still, it be­gan to move through the streets, and in a very short time they ar­rived at the royal palace.