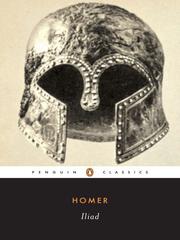 My jour­ney through the clas­sics starts with this great mas­cu­line epic! I en­joyed it more than I thought I would. Some things I re­ally liked:
The ten­sion be­tween free will and fate. The gods are watch­ing the Greeks and Tro­jans and in­flu­enc­ing every­thing that hap­pens, but they're not all-know­ing or all-pow­er­ful.

The epic sim­i­les. My fa­vorite is from Book 13, lines 136-142:
The Tro­jans pressed for­ward in a body, and Hec­tor led them straight on, rag­ing, like a boul­der rolling from a cliff that a river in win­ter flood has forced from the brow of a hill, hav­ing torn its foun­da­tion of re­morse­less rock with an im­mense down­pour, and leap­ing high the boul­der flies along, and the for­est crashes be­neath it; straight on it runs with­out wa­ver­ing, un­til it reaches level ground; then it rolls no more, for all its ur­gency.
The char­ac­ters. I was sur­prised that they weren't just all two-di­men­sional, in­dis­tin­guish­able sol­diers. Ac­cord­ing to the trans­la­tor's notes, this points to the pos­si­bil­ity that The Iliad was ini­tially writ­ten down, rather than de­vel­oped orally and writ­ten down much later. My fa­vorite char­ac­ter was Nestor, the old man who likes to tell about the heroic deeds he ac­com­plished when he was younger.
I read Car­o­line Alexan­der's trans­la­tion and found it po­etic and un­der­stand­able, but I know very lit­tle about the dif­fer­ent trans­la­tions and can't com­pare it to any oth­ers.