Book Review: Doctor Who: Shada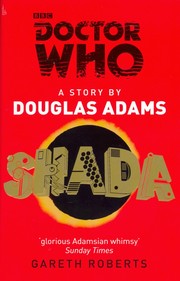 (Listened to audiobook)

I like Doc­tor Who, but just the new se­ries, and not enough to read any books. I imag­ine com­pared to other Doc­tor Who books this is pretty good.
I ac­tu­ally read Doctor Who: Shada be­cause I'm a big Dou­glas Adams fan, and this book is based on one of his TV scripts. Com­pared to Adams's books, Doctor Who: Shada does­n't im­press.
The plot has some in­ter­est­ing mo­ments but is pretty stan­dard clas­sic Who. Many of the char­ac­ters are pre­cur­sors to char­ac­ters in later Adams works, and the au­thor does throw in some fun ref­er­ences to H2G2.
If you're into clas­sic Who, I'm sure you'll love this book. If you're just a com­pletist Adams fan, you can save your­self the time and read the Wikipedia sum­mary.