Book Review: American Heroes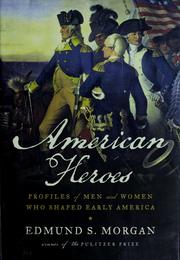 This col­lec­tion of es­says on the Pu­ri­tans, Quak­ers, and Found­ing Fa­thers has some in­ter­est­ing ob­ser­va­tions:
From an es­say writ­ten in 1959:
Li­braries will re­main the nurs­eries of heresy and in­de­pen­dence of thought. They will, in fact, pre­serve that free­dom which is a far more im­por­tant part of our life than any ide­ol­ogy or or­tho­doxy.
I've been won­der­ing about the In­ter­net's ef­fect on this con­cept; it's eas­ier to ac­cess "heresy", but it's also eas­ier to sur­round your­self with only those who agree with you.
Our rep­re­sen­ta­tive gov­ern­ment is a fic­tion: it is im­pos­si­ble for a rep­re­sen­ta­tive to ex­actly rep­re­sent the be­liefs and de­sires of thou­sands of oth­ers. Their job rather is to work for the good of the coun­try in­stead of just their con­stituency.

Wash­ing­ton re­fused to en­dorse po­lit­i­cal can­di­dates to avoid, in his words, "in­ter­fer­ing di­rectly or in­di­rectly with...the choice of their rep­re­sen­ta­tives". In the same spirit, he also re­fused to veto many bills that he per­son­ally dis­agreed with.