Book Review: A Wizard of Earthsea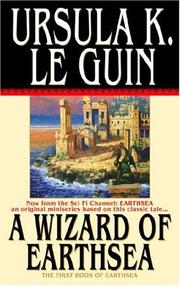 It might be be­cause I just read it, but I'm struck by a lot of par­al­lels be­tween The Rid­dle­mas­ter of Hed and A Wiz­ard of Earth­sea. Some ex­am­ples:
Both fol­low the stan­dard young male fan­tasy pro­tag­o­nist on the Hero's Jour­ney, al­though nei­ther char­ac­ter is two-di­men­sional.
Both Ged and Mor­gon strug­gle against the sea.
Both books con­tain evil shapechang­ers.
In both books, names hold power.
The ac­tual writ­ing in both is ex­cel­lent, of­ten beau­ti­ful.
Both worlds feel real, with a real his­tory.
One big dif­fer­ence is the nar­ra­tion style. "Earth­sea" fea­tures an om­ni­scient nar­ra­tor; the "Rid­dle­mas­ter" nar­ra­tor is not om­ni­scient. "Rid­dle­mas­ter" seems to have a more straight­for­ward plot, but also con­tains more am­bi­gu­ity.
I look for­ward to even­tu­ally read­ing both to Ly­dia.